05
Jan
2020
/
16
Mar
2019
Special Thanks to the National Endowment for the Arts for its support of the catalogue that accompanies Bel Canto: Contemporary Artists Explore Opera. You can preview the catalogue here and purchase your hard copy at our store curated.
Bel Canto has been extended through January 5, 2020 with A SPECIAL NEW INTERVENTION! To learn more about this guest appearance installation, Beautiful Signing, Asides by Andy Ducett, launching October 19, click here.

SITE Santa Fe presents Bel Canto: Contemporary Artists Explore Opera, an exhibition that examines themes of race, gender and class within the stories, traditions, architecture, and music of opera. The exhibition features the work of Vasco Araújo, Suzanne Bocanegra, Candida Höfer, William Kentridge, Guillermo Kuitca, Yinka Shonibare CBE, Matthias Schaller, and Bill Viola.
Among the works included are a film that provides a post-colonial take on Verdi; large-scale photographs of iconic opera houses that explore the architecture and order of social space; multiple installations that investigate the stories, music, sets and costumes of opera; drawings and collages that abstract opera design; and an installation of a fictional diva's dressing room that examines gender roles. The first large-scale exhibition of its kind, Bel Canto will engage opera aficionados and novices alike, offering unexpected glimpses behind the scenes and deep into the cultures and histories that have influenced this iconic art form over the years.
Bel Canto's exhibiting artists and works will include:
Vasco Araújo presents an installation of a fictional opera diva's dressing room that plays with gender roles in the opera.
Suzanne Bocanegra presents a new work, with music by David Lang, inspired by Francois Poulenc's 1956 opera Dialogues des Carmélites. 
Candida Höfer presents a series of meticulously composed photographs of some of the world's most iconic opera houses that explore the grandeur, order, and energy of these spaces.
William Kentridge presents works that explore the stories, music, and politics of the opera.
Guillermo Kuitca presents drawings and collages that abstract opera house theatre floor plans to explore themes such as class and privilege.
Yinka Shonibare CBE (RA) presents Addio del Passato, a film that explores race and colonialism and features a stunning performance of an aria from the last act of Verdi's opera La Traviata.
Matthias Schaller presents Fratelli d'Italia, 150 photographs of iconic Italian opera houses all shot from the vantage point of the stage.
Bill Viola presents Becoming Light (2005) a mesmerizing video inspired by the love story of the protagonists in Richard Wagner's nineteenth-century opera, Tristan and Isolde.
The works in Bel Canto celebrate the grandeur and beauty of opera while challenging the viewer to delve deeper into history and narratives of opera that are often overlooked.
Bel Canto is accompanied by a weekly film screening of William Kentridge's The Nose, 2013. (2:01 hours), Composer: Dmitri Shostakovich, Conductor: Pavel Smelkov, Librettist: Smitiri Schotakovich with Yevgeny Zamyatin, Gregory Ionin and Alexander Preis. Performed by the Metropolitan Opera Orchestra and Chorus, Courtesy of the Metropolitan Opera, New York.
Acclaimed artist William Kentridge directed and designed this visually dazzling Met premiere production of Smitiri Shostakovich's satirical opera, adapted from the classic short store by Nikolai Gogol. Baritone Paolo Szot leads the cast as Kovalyov, the hapless bureaucrat whose nose has mysteriously gone missing. Alexander Lewis and Andrey Popov co-star, and Pavel Smelkov conducts.
The Performance is screened for free each Friday, 10 am, 12 pm, 2 pm, and 4 pm in the Marlene Nathan Meyerson Auditorium.
The Bel Canto catalogue will feature essays and artist entries by SITE's Chief Curator Irene Hofmann and Assistant Curator Brandee Caoba.
THANK YOU!
This exhibition is supported by a lead grant from the Carl & Marilynn Thoma Art Foundation


UNDERWRITERS
Avalon Trust
Steve & Karen Berkowitz
Marleen De Bode Olivié & Marc Olivié
Jim Manning & Dana Pope Manning
Andy Wallerstein & Mary Sloane
DONORS
Christine & Bill Aylward
Jean & John Berghoff
Cornelia Bryer & Herman Siegelaar
Helen Kornblum
Marsha & Robert Jones
Bill Miller
Cindy Miscikowski
SPONSORS
Merrilee Caldwell & Marcus Randolph
Chopard
Sande Deitch
Maria & Edward Gale
Robin Merlo & Michael Lescander
Chuck & Barbara Moore
Nancy Ziegler Nodelman & Dwight Strong
Christophe Olson & Josedgardo Granados
The Santa Fe Opera
To learn more about how you can support Bel Canto, click here. 
SITE'S GUIDE BY CELL
Expand your experience of Bel Canto through our custom audio guide accessible through your cell phone. Dial in to our new Guide By Cell audio guide to hear a range of perspectives on the artists, artworks, and ideas in Bel Canto!
HOW TO GUIDE BY CELL Dial (505) 225-8535 to connect to our menu.
Using your keypad on your phone, select the channels of your choice.  You'll find a menu of channel options in each gallery.  You decide your own path through the show. See our staff at the Front Desk for help or to check out a set of headphones for your phone. For an outline of the GUIDE BY CELL topics and voices, please visit this link. A transcript of the GUIDE BY CELL audio guide is available at the front desk, or by clicking here.
Cell Phone Guide Production:
Special thanks to Nora Dolan for overseeing the production of our audio guide and to Johnny Bell for his technical support of our recordings.
SITE Santa Fe Gala Dinner & Opera Ball 
Friday, July 19, 2019
Join us in Santa Fe for a Gala Dinner & Opera Ball on July 19, featuring the artists of Bel Canto, elegant gala dining in the exhibition galleries, special performances, and an Opera Ball and Dance Party.
Passages Santa Fe
THREE SANTA FE ARTS ORGANIZATIONS COLLABORATE TO BROADEN ACCESS AND EXPOSURE TO OPERA ACROSS THE CITY
Three distinct Santa Fe cultural organizations—The Lensic Performing Arts Center, The Santa Fe Opera, and SITE Santa Fe—will partner to present Passages: Opera Across Santa Fe, a year-long programmatic and marketing collaboration designed to provide multiple dynamic and complementary experiences in the exploration and celebration of opera. The collaboration will promote Santa Fe as the premier destination for an immersive opera experience in 2018-19, share and expand respective audiences, and provide multiple access points to understanding and appreciating Opera in order to make this iconic art form enticing and accessible to both new and existing audiences.
This collaboration is funded in part by the City of Santa Fe Arts Commission's Collaborative Arts Marketing Program.
PASSAGES' JOINT PROGRAMS INCLUDE:
THE LENSIC PERFORMING ARTS CENTER: OCTOBER 2018 – MAY 2019
The new Met:Live in HD season, which includes live simulcasts and encore presentations. Featured are Aïda, Samson et Dalila, La Fanciulla del West (The Girl of the Golden West), Marnie, La traviata, Adriana Lecouvreure, Carmen, La Fille du Régiment (The Daughter of the Regiment), Die Walküre, and Dialogues des Carmélites. Also at the Lensic: A live performance of No Tenors Allowed, starring Thomas Hampson and Luca Pisaroni (May 2).
SITE SANTA FE CONTEMPORARY ART EXHIBITION: MARCH 2019 – JANUARY 5, 2019
Bel Canto: Contemporary Artists Explore Opera is an exhibition that brings together a celebrated group of artists and works that examine the music, design, history, and architecture of the opera. Featured artists include: Vasco Araújo (Portugal), Suzanne Bocanegra (US), Candida Höfer (Germany), Guillermo Kuitca (Argentina), Yinka Shonibare MBE (UK/Nigeria), and Matthias Schaller (Germany), among others.
THE SANTA FE OPERA'S 2019 SEASON: JUNE 28 – AUGUST 24, 2019
La bohème, Les pêcheurs de perles (The Pearl Fishers), Così fan tutte, Jenůfa, The Thirteenth Child, and Renée Fleming in Recital
Each partner promotes a unique Santa Fe experience through its state-of-the-art programming. The Lensic's diverse and dynamic productions within its historic landmark theater, The Santa Fe Opera's world-class talent amidst Santa Fe's breathtaking landscape, and SITE's internationally-acclaimed contemporary art exhibitions in its award-winning building each attract visitors from all over the region and the world and amplify Santa Fe as a high-profile destination for the arts.
Beginning in the fall of 2018 through Summer of 2019, Passages will highlight the rich programming of these three organizations and showcase the diverse opportunities to access and interpret the art form of Opera through various media.
The collaboration will offer a new creative identity and marketing plan designed to promote each organization's activities to audiences locally and nationally; develop a series of cross-promotional initiatives to drive audiences to partner productions and events; and create new collaborative content in the form of podcasts and public programming offering behind the scenes glimpses of Opera productions, interviews with artists, and vibrant public programs exploring cultural and historical context relevant to exhibited art and performances.
Special Offers for SITE Friends and Members
In celebration of the Passages: Opera Across Santa Fe collaboration, we are proud to offer wonderful discounts at three of Santa Fe's top cultural institutions: SITE Santa Fe, Santa Fe Opera & The Lensic.
Santa Fe Opera
If you present your Santa Fe Opera ticket stub or your Night at the Opera brochure, at SITE Santa Fe, you'll receive free admission for two to Bel Canto. 
SPECIAL OFFER:
SITE Santa Fe supporters receive a 10% discount on selected performances indicated below at The Santa Fe Opera's 2019 Season using promo code:2019SITE.
La bohème (July 6, August 3)
The Pearl Fishers (June 29, August 23)
Così fan tutte (July 26, August 22)
Jenufa (July 20, August 2)
The Thirteenth Child (August 14, August 21)
To learn more and get your tickets at the Santa Fe Opera, click here.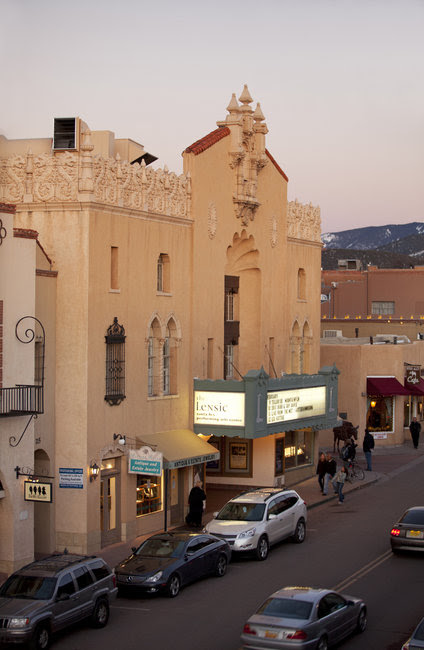 Lensic Performing Arts Center
If you present your Lensic Presents: Thomas Hampson and Luca Pisaroni: No Tenors Allowed ticket stub at SITE Santa Fe, you'll receive free admission for two to Bel Canto.
SITE Santa Fe supporters received a 10% discount on Lensic Presents: No Tenors Allowed performance on Thursday, May 2, 7:30 pm using the promo code: SITEPASS.
To learn more and get your tickets at the Lensic, click here.